Location
Efland
421 Efland Cedar Grove Rd
Efland, NC 27243
(P) 919-732-3181
(F) 919-732-3057
Email Us:
cnjheatandair@peoplepc.com
Emergency Service Available
P.O. Box 248
Efland, NC 27243
(Mailing Address)
We are proud to offer service in and around the following communities:

Apex
Chapel Hill
Hillsborough

Burlington
Durham
Mebane
Cary
Efland
Raleigh
History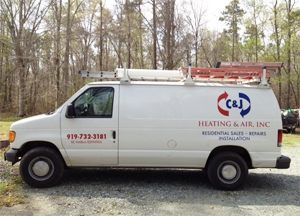 Welcome to C & J Heating and Air, where customer satisfaction fuels our business. Let's face it, customers can't be happy if they're not comfortable, so we do all we can to insure that they are both happy and comfortable. We invite you to test us out, make the task of choosing the best equipment for your home a happy one.
C & J Heating and Air was founded by Carlo Garay in March 2006 in the small town of Efland, North Carolina. We offer special financing options with approved credit. We are also recommended by Smart Consumer Services as a reputable hvac contractor. C & J serves Durham/Chapel Hill and surrounding areas offering competitive pricing. We offer residential and light commercial service, design, installation, and replacement, with a wide variety of heat pumps, gas furnace, package units, and accessories.
Your Comfort ~ Our Number One Priority.